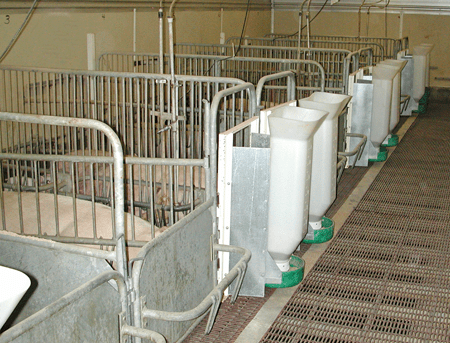 Creating the optimal environment for farrowing sows can help to minimize the challenges producers face when it comes to maintaining proper body condition and raising healthy piglets, as sow well-being will always be a constant concern within our industry. Improvements to sow feeding are a clear opportunity for improvement to body condition, overall health, increased productivity and overall herd profitability.
We've put together some commonly asked questions and answers, as well as the advantages and disadvantages of multiple feeding systems, to serve as your guide for optimizing sow feed intake.
What is the goal for optimizing sow feed intake?
The objective of optimizing feed intake for lactating sows is two-fold: not only to ensure animals are consuming sufficient feed to meet nutritional needs, but also to reduce the risk of poor litter performance due to an off-balance diet.
Factors such as maximizing the number of piglets per litter, optimizing piglet birth weight, minimizing the period of wean-to-conception and enhancing sow longevity are all crucial results of a successful feeding program.
What are the methods for feeding sows in farrowing?
There are three primary feeding methods for farrowing sows: hand feeding, automatic drop feeding, and feeding with an electronic or mechanical feeder.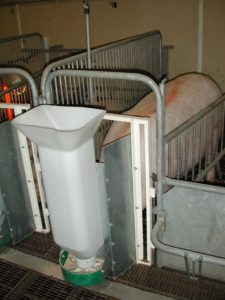 Hand-feeding is often extremely time-consuming and labor-intensive, adding to the overall cost of livestock production. This type of feeding typically occurs 1-4 times per day and is measured accordingly.
Drop feeding allows more feed to stay in front of sows for longer periods, with slightly less labor, because feed is dropped in intervals. However, producers must also install an apparatus to monitor feed weight or volume in each stall to help with monitoring. Another obstacle is storage and waste – if a sow isn't eating for some particular reason, feed can accumulate, become stale, and even overflow the trough creating waste.
The most efficient method of sow feeding is by using automatic ad-libitum or electronic feeders. Automatic ad-lib lactation feeders allow sows to eat at their own pace without excessive labor or wasting of feed. Electronic systems can monitor the weight and volume of feed being delivered, and individual daily feed consumption can be monitored with a software system that tracks details for each sow. While electronic feeders can be an ideal solution for some producers, they also come with a higher price tag and greater input costs.
What is the best feeding method for lactating sows?
Though many methods are available, ad-libitum feeding, also called "free feeding," provides the most benefit to sows and their litters, with the intent being to provide sows enough nutrients to successfully feed her piglets and retain appropriate body weight. This has also been shown to be the most cost-effective way to keep sows in appropriate condition throughout lactation.
Today, the most widely accepted ad-libitum feeding method for sows is using an engineered feeder, such as Osborne's Big Wheel Ad-Lib Sow Feeders. Big Wheel mechanical sow feeders are designed for both farrowing stalls and individual animals and rely on a sow's interaction to dispense feed. This mechanical-flow feature allows sows to increase or maintain optimal intake while virtually eliminating waste. Fresh feed is available at any time for each sow's individual schedule and need, allowing these high-performance animals to stay in top condition throughout lactation.
Mechanical-flow ad-lib feeding also reduces the need for labor during feeding, which allows workers to utilize their time on the other important factors of farrowing and lactation such as visually inspecting sows and monitoring litters.
About Osborne
Osborne is a 100% employee-owned manufacturer of American-made production equipment for the livestock industry, particularly when it comes to feeding. Both traditional and technology-driven feeding solutions for sows and gilts in both gestation and farrowing, as well as nursery, grow-finish, and finishing feeders (for indoors or outdoors) make up Osborne's tested and proven feeding systems. To learn more about these products, please contact us today!