October 23, 2019 – Osborne, Kansas, USA – Osborne Industries, Inc., is pleased to announce that Ron Smith has been added to its North America Sales staff for livestock equipment. Smith will work closely with Osborne customers and equipment dealers promoting Osborne's swine management equipment in the eastern United States and Canada. "Over the years, I have managed several swine operations across Indiana and understand the challenges producers face every day," stated Smith. "In my new role, I hope to help producers overcome their daily challenges with the products available from Osborne that help save money and improve efficiency at every stage of production."
Smith brings extensive experience and knowledge of the swine industry and swine equipment to Osborne. He has over 25 years of experience in managing pork operations in Indiana. Since 2013, Smith has served as President and Manager of equipment supplier, WLC Company, Inc., of Sedalia, Indiana, until its closure in early October 2019.
"We are very pleased to have Ron join the employee-owned team at Osborne. He brings knowledge and experience in the industry that will help us to continue developing solutions for pig producers," said Amy Conrad, Osborne's Sales and Marketing Manager. "Ron's experience at WLC Company, supplying products from several equipment suppliers, including Osborne, will allow him to immediately begin actively promoting and supporting familiar Osborne products like heat mats, feeders, weigh scales, and ventilation equipment to producers across the United States and Canada."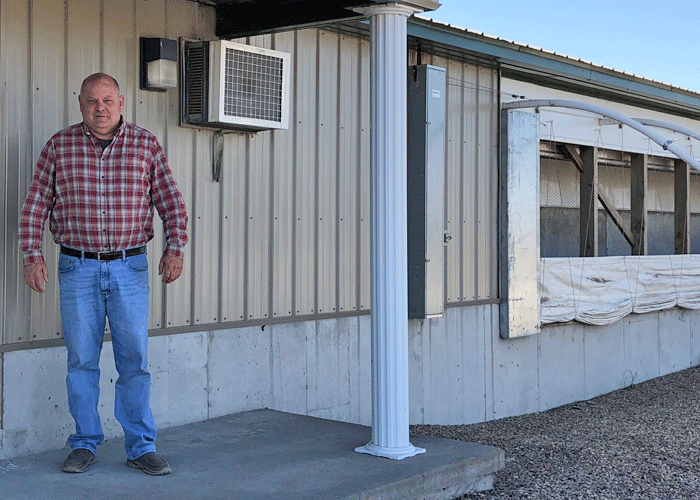 Osborne Industries, Inc., is a diversified developer and manufacturer of livestock management equip­ment known for saving producers time and money. Osborne products like Stanfield Heat Pads, Big Wheel Feeders, ACCU-ARM Scales, AGRI-AIDE Ventilation Equipment, and advanced automated feeding and weighing equipment like TEAM Electronic Sow Feeding (ESF) Systems, FIRE Pig Performance Testing Feeders, and the Weight Watcher Growth Management System are marketed and distributed worldwide. For more information about Osborne and their line of production equipment, visit www.osbornelivestockequipment.com or e-mail info@osborne-ind.com.
###