For TEAM® Electronic Sow Feeding Systems and FIRE® Pig Performance Testing Systems
A new hog feed dispenser motor replacement kit is now available for Osborne TEAM and FIRE customers with additional components to simplify installation, and reduce maintenance labor and feeder "down-time."
Taking the place of the standard replacement feed motor, the new replacement kit includes additional components to make replacing damaged feed motors fast and easy. The kit still includes the feed motor and cable. The plastic auger isolation pad, steel auger bushing and a new stainless steel bolt and locknut (replacing the previous roll pin) used to attach the auger to the motor shaft, have been added to complete the replacement kit.
The feed motor replacement kit is now available to all current FIRE and TEAM users and is easily installed on all versions of this equipment.
Osborne Catalog Number: KG-EM1010
Description: Feed Dispenser Motor Replacement Kit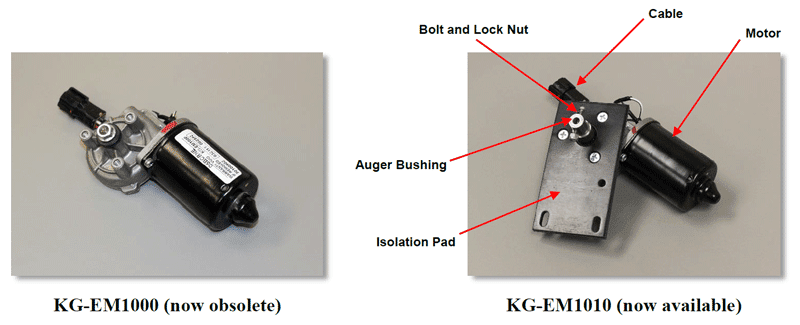 For additional information about our hog feed dispenser or to order, please contact Osborne Customer Service at 1-800-255-0316 (+1-785-346-2192) or e-mail.