Wind can slow or stall exhaust fans, seriously affecting barn ventilation rates. This wind pressure problem can be especially severe in winter months when small or variable speed fans are operating at low speed. Reduce wind pressure without significant interference to exhaust rates by adding Osborne's AGRI-AIDE® Wind Diverters to your system of exhaust fans.
How it Works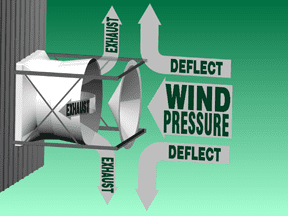 The simple addition of Osborne's Wind Diverter Kits to either new or existing exhaust fans can keep exhaust rates at appropriate levels for animal comfort and safety. The design of the wind diverter, coupled with the venturi effect, created by wind accelerating past the wind diverter, actually assists exhaust fan performance. Wind diverters are a simple and smart choice for all exhaust fans, no matter the season.
Features & Benefits
Improve performance of exhaust fans by limiting wind pressure
Multiple sizes work perfectly for most fans commercially available
Made of strong RTM-Glas™ fiberglass-reinforced plastic for maximum strength and long service life.