The all new Osborne Mark IV FIRE® (Feed Intake Recording Equipment) Feeder is a single-space ad-libitum feeder that serves 12 to 15 animals without feed restriction. Free access to feed is permitted at all times. Refilling and feed weighing never interrupt eating as with other testing systems.
About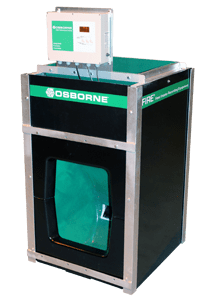 The Mark IV FIRE Feeder is constructed with all new components and high quality materials. The new feed saver front panel is molded with impact- and corrosion-resistant pDCPD thermoset plastic and features a turned-over lip to minimize feed spillage underneath the trough. A new trough alignment and stabilization system also makes the Mark IV FIRE system the most reliable and accurate performance testing system available.
The feed trough, made of Osborne's proprietary RTM-Glas™ fiberglass-reinforced plastic, is suspended on a sensitive load cell that weighs the trough and feed. The feed hopper holds approximately 108 lbs.* (49 kg) of feed.
The trough mount and load cell are protected by an isolation mechanism and a sturdy enclosure that houses a highly accurate feed dispensing system. FIRE automatically stores the time and duration of each visit, along with the weight of feed consumed. This information is transferred to your computer in real-time and is used to generate management reports or studied in relation to environmental, genetic, and nutritional variables.
* Approximate feed capacity based on feed density of 42 lbs. per cubic foot.
Features & Benefits
Completely automates the measurement of individual feed intake
Accurate commercial production simulation
More accurate than manual testing animals in single pens
Eliminates data collection errors and operator bias
Effectively tests pigs, sheep, and goats
Separate, sensitive load cells weigh feed
ALL NEW feed saver front panel minimizes feed spillage under the trough
ALL NEW trough alignment and stabilization system for the most accurate data
Models
FIRE Feeder
Catalog
No.
Description
Finish
Dimensions
in. (cm)
Electronics
FR-000FD5
Mark IV FIRE Feeder
Hot-dipped Galvanized
27 x 26 x 54 3/8
(68.6 x 66 x 138)
ISO FDX-B
FIRE Feeder Accessories
Catalog
No.
Description
Notes
KR-FFD414
FIRE Feeder Lift Kit
Required if using Feeder with Weigh Race


Note:Raises Feeder off ground away from debris for more accurate weighing
Literature
Literature
FIRE® Pig Performance Testing Informational Brochure: English | Spanish | Portuguese | Russian
Frequently Asked Questions: FIRE®: English | Spanish | Russian
Benefits of FIRE®: English
Accuracy & Precision of FIRE® Pig Performance Testing Feeder: English | Russian
Technical Note: Using FIRE® to Improve Feed Ration Plans: English
FIRE® Performance Testing for Sheep and Goats Informational Brochure: English
---
Research
Abstract: Using sentinel pens with performance testing equipment as a tactical management tool: English
Feed Intake Pattern of Group-Housed Growing-Finishing Pigs Monitored Using a Computerized Feed Intake Recording System: English
Effects of Feed Type, Space Allowance, and Mixing on the Growth Performance and Feed Intake Pattern of Growing Pigs: English
Monitoring Growth and Statistical Variation of Grow-Finish Swine: English
Feeding Behavior of Yorkshire Pigs Selected for Residual Feed Intake: English
---
Press Releases
PIC Expands Use of FIRE® System to new Genetic Nucleus: English | Chinese
PIC Australia Installs FIRE® System: English | Chinese
Chinese Feed Company Invests in Research Technology: English
Large Chinese Pig Producing Company Expands Use of Performance Testing Equipment: English