About
Various protective races are available for the FIRE Feeder. While FIRE may be used as a stand-alone ad-lib feeder, protective races reduce the chance dominate animals might produce atypical results during a test. The protective races, ranging from shoulder-length races, to races with integrated animal scales, provide protection as each individual animal visits the FIRE Feeder to eat. Race widths are easily adjusted to match the average size of animals in the pen. Each race helps FIRE Feeders simulate commercial, multi-opening feeders more accurately.
How it Works
FIRE Feeder
Shoulder Race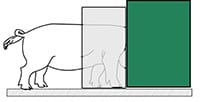 The shoulder race provides limited protection from other animals by shielding the head and shoulders.
Full-Body Race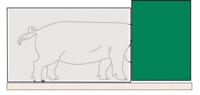 The Full-Body Race, or long race, limits competition more than the shoulder race by shielding the animal's entire body.
ACCU-ARM® Weight Race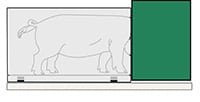 The ACCU-ARM® Weigh Race is a full-body race with an integrated animal scale. With the Weigh Race, daily median animal weights, weight gain, and feed-to-gain efficiencies can be measured daily or over time.
Models
FIRE Protective Races
Catalog
No.
Description
Finish
Dimensions
in. (cm)
FR-000RC3
Shoulder Race
Galvanized
steel
Adjustable Side Panels
5-1/4 to 20-1/4 x 18-1/2 x 30-3/8
(13.3 to 51.4 x 47 x 77)
FR-000RC2
Long Race
Galvanized
steel

Adjustable Side Panels
5-1/4 to 20-1/4 x 41 x 31-1/2
(13.3 to 51.4 x 104 x 82.6)

FS-000FS5
Osborne ACCU-ARM Weigh Race
(Requires Feeder Lift Kit for FIRE Feeder)
Galvanized
steel

Adjustable Side Panels
40 x 26 x 58
(101.6 x 66 x 147.3)

FS-000FS8
Osborne ACCU-ARM Weigh Race
(Requires Feeder Lift Kit for FIRE Feeder)
Combo Finish
Galvanized with 304 Stainless Steel floor, sides, and links
Adjustable Side Panels
40 x 26 x 58
(101.6 x 66 x 147.3)
Literature
Literature
FIRE® Pig Performance Testing Informational Brochure: English | Spanish | Portuguese | Russian
Frequently Asked Questions: FIRE®: English | Spanish | Russian
Benefits of FIRE®: English
Accuracy & Precision of FIRE® Pig Performance Testing Feeder: English | Russian
Technical Note: Using FIRE® to Improve Feed Ration Plans: English
FIRE® Performance Testing for Sheep and Goats Informational Brochure: English
---
Research
Abstract: Using sentinel pens with performance testing equipment as a tactical management tool: English
Feed Intake Pattern of Group-Housed Growing-Finishing Pigs Monitored Using a Computerized Feed Intake Recording System: English
Effects of Feed Type, Space Allowance, and Mixing on the Growth Performance and Feed Intake Pattern of Growing Pigs: English
Monitoring Growth and Statistical Variation of Grow-Finish Swine: English
Feeding Behavior of Yorkshire Pigs Selected for Residual Feed Intake: English
---
Press Releases
PIC Expands Use of FIRE® System to new Genetic Nucleus: English | Chinese
PIC Australia Installs FIRE® System: English | Chinese
Chinese Feed Company Invests in Research Technology: English
Large Chinese Pig Producing Company Expands Use of Performance Testing Equipment: English