Electronic Sow Feeding (ESF), used with RFID technology, allows individual sow management without individual confinement. ESF assists in the total reproductive management of gestating, farrowing, and unbred sows and gilts. When properly managed, research indicates KPIs (key performance indicators) are equal to or better than traditional gestation stall systems.
About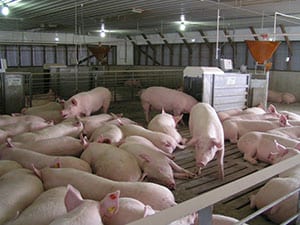 Individually manage and feed sows and gilts in group-housed settings without individual confinement.
The Osborne TEAM® (Total Electronic Animal Management) System is a complete management system for gilts and gestating sows in large pen gestation. Osborne's extensive research of animal behavior in group-housed settings has enabled the TEAM System to become one of the most reliable and proven ESF Systems in the world. Unlike other ESF Systems, TEAM system components are built strong for years of reliable use. The simple design and operation of TEAM means less stress for you and your animals.
Today, the investment in ESF equipment is less expensive when compared to traditional crated systems, and proper facility design requires less area per animal. The requirement for animals to have the ability to freely move around is becoming more mainstream as consumers and activists demand a more humane way of animal management. Many states and companies have required the end of gestation crates.
System Components
The Osborne TEAM Management System utilizes equipment that maximizes animal comfort and is designed to operate in harsh environments.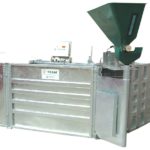 Electronic Sow Feeding (ESF) Station
Electronic Sow Estrus Detection (EED) Station
Manages data collected by TEAM for management tasks
How it Works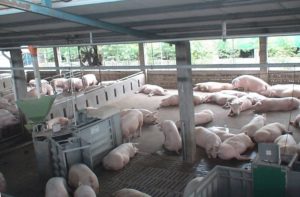 Each sow or gilt is tagged with an RFID (radio frequency identification) tag. The TEAM System uses automated information based equipment, called workstations, to perform specific "chores" based upon the animals unique identification. Both the fulfillment of these chores and the associated biometrics are collected at the workstations. Each TEAM workstation is fitted with a small computer which is responsible for identifying each animal and executing commands. Information collected at each TEAM workstation extends the ability of your farm management personnel to understand the immediate status of every animal. The TEAM G-Station feeds each sow and gilt and the TEAM E-Station collects estrous information on sows and gilts.
Each animal is automatically identified by an electronic RFID ear tag whenever it enters a TEAM workstation. The ear tag allows the TEAM workstation to assign all actions to a record for each animal so animals can be managed individually.
Features & Benefits
Controlled feeding of individual sows and gilts in large pen gestation
Eliminates unnecessary feed waste
Provides comprehensive records for sow management
Optimizes gilt and sow condition
Eliminates feeding anxiety or aggression resulting in docile and unstressed animals
Better space utilization of barn because more of the building footprint is available as room for sows
Animals in the G-Station eat in a protected environment, eliminating competition for feed
Monitor estrous automatically with the TEAM E-Station
Literature
Literature
TEAM Electronic Sow Feeding Informational Brochure: English | Spanish
TEAM Frequently Asked Questions (FAQ): English | Spanish
Benefits of TEAM: English
ACCU-TEAM™ New Product Bulletin: English | Spanish
---
News Articles
Genetic selection for docility is important in loose sow housing: English
Sows in Groups Preferred: English
---
Press Releases
Pig Producer Presents Electronic Sow Feeding (ESF) System Experience: English | Chinese
NeX Eco Populates New Sow Farm With Animals: English | Chinese
Chinese Swine Integrator Purchases TEAM Electronic Sow Feeding (ESF) System: English | Chinese
Integrator Co-operative Installs First TEAM Group Sow Management System in Japan: English
New Alliance Will Improve Sow Herd Management: English
Past, Present and Future of Sow Housing at GDPIA Trade Show: English