The TEAM® E-Station™ checks for gilts and sows and watches for return to estrus among gestating sows. Gilts and sows interact with a teaser boar through nose-to-nose contact at the TEAM® E-station™. RFID tags are used to communicate the unique identification number of each animal visiting the E-Station.
About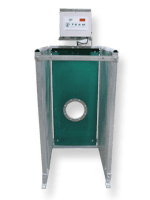 The visit and duration of each interaction is measured and used to generate a very accurate Estrus Reference Value (ERV). The ERV is directly proportional to estrus intensity.
Raise production levels with TEAM® EED by monitoring estrus 24 hours a day, 7 days a week for gilts or sows. Use quick reference reports generated daily by the TEAM® Software. Know before you enter the barn how many animals are to be checked and bred each day. Decrease reproductive failures and non-productive days. Plan "availability" by monitoring individual onset and timing of estrus for incoming replacement gilts while they are isolated and being acclimated.
Features & Benefits
Monitor estrus automatically 24-7
Plan availability for gilt development units
Detect first estrus in weaned sows
Identify return to estrus in large groups of animals
Locate animals that would otherwise go unnoticed
Available with a spray marker kit to visually identify animals ready for breeding
Models
TEAM Electronic Estrus Detection (EED) Workstations
Catalog No.
Description
Finish
Electronics
FP-000ED2
Estrus Detection E-Station
Hot-dipped Galvanized
ISO FDX-B
FP-000ED3*
Estrus Detection Auxiliary Station
(antenna only)
Hot-dipped Galvanized
N/A
* Note: The Auxiliary E-Station (FP-000ED3) requires one standard E-Station (FP-000ED2). The Auxiliary station is generally used when another access point to a boar is necessary. The Auxiliary Station shares the controls with the standard E-Station.
TEAM System Hardware
Catalog No.
Description
Notes
FG-EC2000
TEAM Controller
For 520 animals / 16 Workstations Maximum
KG-PS1000
TEAM Power Supply
24V, 8 station capacity
KG-PS1001
TEAM Power Supply
(International)
24V, 8 station capacity
TEAM System Accessories
Catalog No.
Description
Notes
KP-AW130
Spray Marker Kit
Sprays animals in E-Station to visually identify animals returning to estrus