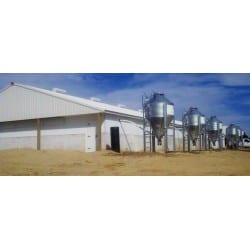 September 12, 2013 – Iowa Lakes Community College of Emmetsburg, Iowa, will host an open house and ribbon cutting ceremony at their new Swine Training Center on Thursday, September 19, 2013, from 3 to 4:30 p.m. Osborne Industries, Inc., of Osborne, Kansas, provided all the pig management equipment for the facility.
Representatives from Iowa Lakes College and Brian Strobel, the Osborne Sales Representative overseeing the project, will be on hand to provide information and answer questions. Tours of the facility will be held and will showcase how students are learning the latest swine production trends at the college to prepare them for employment opportunities after graduation.
Equipped with Osborne's innovative pig management equipment, the staff and students at the new Swine Training Center will be able to practice modern pig production techniques and procedures. Brian Strobel, Osborne Sales Representative, stated, "Osborne's equipment will give students real-world training in modern pork production. We were excited to work with Iowa Lakes Community College because of their commitment to providing students with a unique opportunity to study in a facility with the latest equipment."
The public is invited to attend this exciting event. For more information about the event, contact Iowa Lakes Community College at 1-800-242-5108. Osborne Industries is a leading manufacturer and distributor of swine production equipment located in Osborne, Kansas. For more information on Osborne and our pig management equipment, please contact us today.