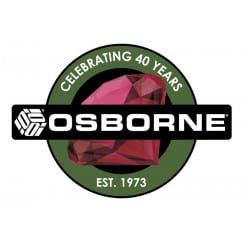 May 10, 2013 – Osborne Industries, Inc., Osborne, Kansas, will celebrate its 40th anniversary at company headquarters on May 15, 2013. The employee-owned company is a diversified manufacturer and distributor of swine industry equipment and products, an original equipment manufacturer (OEM) of composite plastic components for a variety of industries, and markets a small line of pet products.
Osborne Industries was incorporated in 1973, with only five employees, inside a rented building on the county fairgrounds. Today, just across the street from the same fairgrounds, the company has nearly 250,000 square feet of manufacturing, warehouse, and office buildings, occupying almost 11 acres in the Osborne Industrial Park. Osborne Industries is the largest employer in the City of Osborne.
Early manufacturing for the company was limited to labor-intensive hand lay-up methods for fiberglass-reinforced plastic fabrication. In 1976, Osborne Industries developed a new production technique: resin transfer molding (RTM). Osborne's RTM manufacturing is also used on many of their proprietary livestock equipment products.
With the purchase of various companies throughout the 1980s and 1990s, Osborne expanded its capabilities to include metal fabrication, machining, tool building, and an electronic design and assembly division. These additions assisted in the expansion of Osborne's livestock equipment products.
Osborne manufactures and distributes its own line of livestock equipment that includes: Stanfield® Heat Pads, Big Wheel® Hog Feeders, ACCU-ARM® Weigh Scales, AGRI-AIDE® Ventilation Equipment, and advanced electronic feeders and animal scales: FIRE ® (Feed Intake Recording Equipment) Performance Testing Feeder, TEAM® (Total Electronic Animal Management) Electronic Sow Feeding Systems, and the Osborne Survey Scale™–a component of the Osborne Weight Watcher™ System. Osborne also distributes a complete line of production equipment that includes penning, flooring, farrowing and gestation stalls, among others.
In 2000, with the creation of the Employee Stock Ownership Plan (ESOP), Osborne Industries transitioned into becoming an employee-owned company by purchasing a 30% ownership interest from several individual stockholders. In early 2007, the final stocks were purchased and the company became 100% employee-owned, ensuring the business would stay in Osborne and continue to provide employment opportunities in North Central Kansas.
With its first international sale in 1979, Osborne Industries quickly began marketing and distributing products worldwide. In June 2010, the company was awarded the prestigious Kansas Governor's Exporter of the Year Award. Today, Osborne has exported products to over 40 countries which accounts for approximately 20 percent of total company sales. Osborne continues to expand its business internationally.
Most recently, in 2012, Osborne introduced "Single Source Swine Solutions," a complete line of swine management products, equipment, and services. "Single Source Swine Solutions" includes farm design, building construction management, a full line of production equipment, one-of-a-kind training and support, and professional management services to improve success in intensive pig farming.
A company luncheon for all employees is slated for May 15, 2013, to celebrate 40 years in business. For more information on our swine industry equipment, please contact us today!