Osborne's new SaFIRE® (Small Animal Feed Intake Recording Equipment) system is the industry's first feeding system that completely automates the measurement of individual daily feed intake and growth characteristics of small, nursery-sized pigs. Harnessing the proven technology of Osborne's FIRE system, the worldwide standard in performance testing of finishing animals, SaFIRE provides access to critical feeding and growth data for 14 to 50 lb. (6 to 23 kg) pigs housed in groups.
About
SaFIRE (Small Animal Feed Intake Recording Equipment) automatically monitors individual animal feed intake and growth rates of nursery-sized animals in commercially realistic groups of 12-15. Understanding individual animal performance at a young age reflects individual performance in the finishing cycle. Now, genetics companies can use this correlation and the data collected automatically by SaFIRE to assist in selecting superior-performing animals at an earlier age.
Test feed and feed additives with SaFIRE and how specific feedstuffs and additives affect growth and eating habits. Unbiased, automated data collection ensures results from tests are fully accurate.
System Components
SaFIRE® System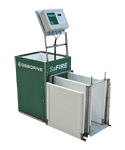 SaFIRE Feeder with Weigh Race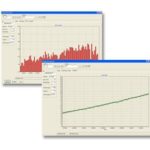 Manages data collected by SaFIRE
How It Works
Each SaFIRE Feeder in a pen accommodates 12 to 15 animals from about 14 lbs. (6 kg) to 50 lbs. (23 kg). Utilizing RFID technology to individually identify animals, an antenna inside the SaFIRE Feeder identifies each animal by their unique tag. The feed intake of each individual animal, the duration of each feeding event, and individual animal weight is recorded on SaFIRE's Integrated Function Controller (IFC).
The WinFIRE RT™ Software maintains a database of information collected in real-time from SaFIRE for each individual animal. WinFIRE RT allows users to make sound decisions.
Because SaFIRE automates the measurement of both feed intake and growth performance, older, manual methods of testing small animals is completely eliminated. Testing with SaFIRE faithfully simulates actual commercial production practice.
Features & Benefits
Completely automates the measurement of individual feed intake and growth performance of small pigs in groups
Accurate commercial production simulation
More accurate than manual testing animals in single pens
Eliminates data collection errors and operator bias
Provides diagnostics for animal health and behavior
Assists in identifying superior performing animals or the effects of specific feedstuffs or feed additives
Separate, sensitive load cells accurately weigh feed and animals
Strong construction for years of use
Literature