Osborne Industries is scheduled to exhibit at several conferences and tradeshows put on by state pork producer associations across the Midwest in January and February. The following infographic outlines each show location and Osborne's booth number. We'd love to see you!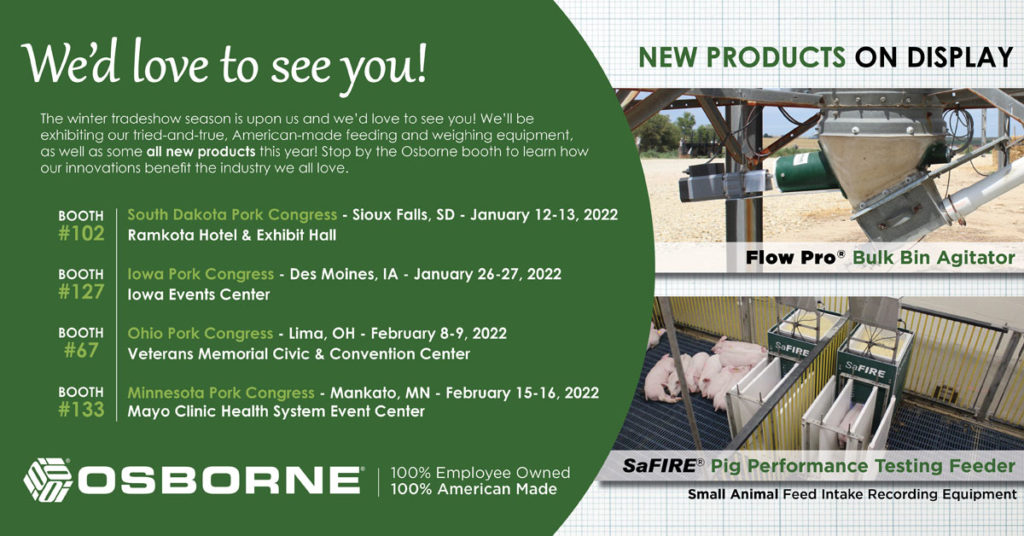 January shows include the South Dakota Pork Congress in Sioux Falls, January 12-13, and the Iowa Pork Congress in Des Moines, January 26-27. February shows include the Ohio Pork Congress in Lima, February 8-9, and the Minnesota Pork Congress in Mankato, February 15-16.
Osborne products like heat mats, hog feeders, and portable livestock scales will be showcased, along with two new products: the Flow Pro bulk feed bin agitator that prevents feed bridging and out-of-feed events in livestock confinement buildings, and the automated small pig performance testing system, SaFIRE (Small Animal Feed Intake Recording Equipment).
For more information, contact your state's pork producers' association or contact us.