Osborne's FIRE® (Feed Intake Recording Equipment) System automates the measurement of individual animal daily feed intake and other pig performance characteristics of growing animals. FIRE is the acknowledged standard for pig performance testing at commercial facilities and universities worldwide: it is currently used by more genetics companies than any other system.
About
Testing with FIRE® accurately simulates commercial production to provide the most accurate results of pig performance.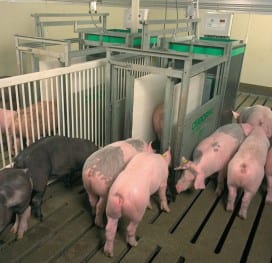 Developed nearly 25 years ago, Osborne's FIRE® System can help identify the most efficient animals to improve herds for genetic selection. Multiple independent tests and user experience confirms the FIRE Systems accuracy in testing and commercial feeding simulation. It has been successfully used to test the performance of pigs, sheep, and goats.
Osborne is pleased to introduce the all new Mark IV model of FIRE Feeders with major improvements to accuracy and useability.
Using RFID (radio frequency identification) technology, animals are identified at the FIRE Station, allowing FIRE to assign all measurements to records. A sensitive load cell continually weighs the trough and feed, allowing FIRE to record the time and duration of each unique visit, along with the weight of feed consumed. The information is transferred to your computer in real-time and can be used to generate reports or studied in relation to environmental, genetic, and nutrition variables.
System Components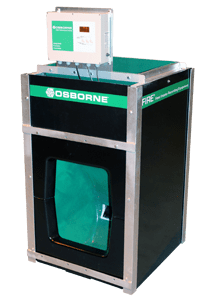 Mark IV FIRE Feeder
Protective Race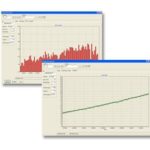 Manages data collected by FIRE for management decisions
How It Works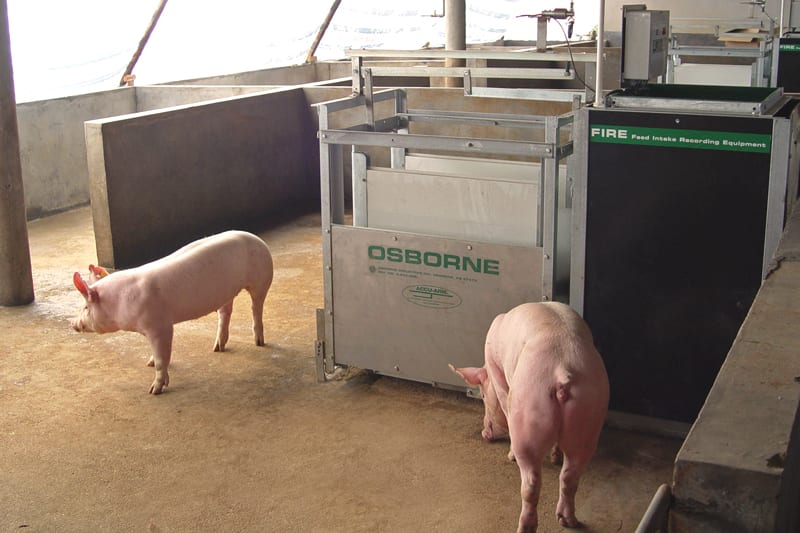 Each FIRE Feeder in a pen accommodates 12 to 15 animals. Because FIRE uses RFID technology to identify animals, each animal is tagged with an RFID tag. An antenna inside the FIRE Feeder identifies animals at the feeder by their unique RFID. Feed intake of each individual animal is recorded as it visits, and when equipped with an ACCU-ARM® Weigh Race, the individual weight of the animal is recorded. The WinFIRE RT™ Software maintains a database of information collected in real-time from FIRE for each individual animal. WinFIRE RT allows users to make sound management and financial decisions.
Because FIRE automates the measurement of both feed intake and growth performance, older, manual methods of testing animals is completely eliminated. Testing with FIRE faithfully simulates actual commercial production practice. FIRE has been successfully used with pigs, goats, and sheep.
Features & Benefits
Osborne's FIRE Performance Testing System creates transparency and efficiency in an industry that faces challenges when it comes to identifying superior animals. This system shows how each animal performs, which enables a continuous and accurate optimization of genetics. With the FIRE Performance Testing System you will obtain a clear insight into the breeding lines and potential of the boar-sow combinations that lead to the most efficient animals.
Osborne's FIRE® Performance Testing System records animal growth and feed intake, which are among the main factors in the pig breeding sector today. This product's technology records individual weight and feed intake in group housing, and registers it on the basis of individual animal identification. When equipped with an ACCU-ARM® Weigh Race, daily median animal weights, weight gain, and feed-to-gain efficiencies are identified. These weights can be measured on a daily basis or be registered over time, accurately identifying the differences in growth and feed intake between animals that provide clear, overall results. FIRE successfully helps to identify superior performing animals.
Completely automates the measurement of individual feed intake and growth performance
Accurate commercial production simulation
More accurate than manual testing animals in single pens
Eliminates data collection errors and operator bias
Provides diagnostics for animal health and behavior
Effectively tests pigs, sheep, and goats
Separate, sensitive load cells accurately weigh feed and animals
Strong construction for years of use
Literature
Literature
FIRE® Pig Performance Testing Informational Brochure: English | Spanish | Portuguese | Russian
Frequently Asked Questions: FIRE®: English | Spanish | Russian
Benefits of FIRE®: English
Accuracy & Precision of FIRE® Pig Performance Testing Feeder: English | Russian
Technical Note: Using FIRE® to Improve Feed Ration Plans: English
FIRE® Performance Testing for Sheep and Goats Informational Brochure: English
---
Research
Abstract: Using sentinel pens with performance testing equipment as a tactical management tool: English
Feed Intake Pattern of Group-Housed Growing-Finishing Pigs Monitored Using a Computerized Feed Intake Recording System: English
Effects of Feed Type, Space Allowance, and Mixing on the Growth Performance and Feed Intake Pattern of Growing Pigs: English
Monitoring Growth and Statistical Variation of Grow-Finish Swine: English
Feeding Behavior of Yorkshire Pigs Selected for Residual Feed Intake: English
---
Press Releases
PIC Expands Use of FIRE® System to new Genetic Nucleus: English | Chinese
PIC Australia Installs FIRE® System: English | Chinese
Chinese Feed Company Invests in Research Technology: English
Large Chinese Pig Producing Company Expands Use of Performance Testing Equipment: English