Modern pig farming technology has transformed pig farms across the country and around the world. The successful pig farm today is one where farmers use technology to their advantage. In doing so, farm operations are improved for both workers and animals. Automated livestock processes and tasks can provide and deliver better animal care. The result is an increase in production, efficiency, and profitability for the farm. Those adopting modern pig farming technologies provide the best possible environment for raising, feeding, housing, and caring for pigs throughout all stages of their lives.
What the Future Holds for Pig Production
Looking into 2019, expect to see more trends toward integrated technologies that can oversee livestock, automate growth management, and further efforts to monitor healthy environmental conditions for pigs to thrive in. There is no doubt that consumer interest in animal welfare is waxing around the globe. Improved animal welfare is certainly a good thing, and the reality is that the rewards for implementing such practices have actually yielded positive results!

It's a sure bet that introducing new pig farming technologies can improve the success of any farming operation. One area that can be cost-effective and increase pig production is having the right hog feeders on your farm. Osborne manufactures a variety of advanced feeding solutions to serve the requirements of nearly any operation. No matter the herd size, housing requirements, or stage of life, Osborne's Big Wheel Feeders for nursery, wean-to-finish, indoor/outdoor finishing, and lactation feeding promotes feed efficiency and reduces overall waste.
---

---
Automating Hog Weighing & Feed Management
Knowing when to precisely feed gilts and sows the right amount at the right time can make a big difference in costs and production. Osborne's ACCU-TEAM™ system is a new, one-of-a-kind patented electronic sow feeding (ESF) system. ACCU-TEAM is a very good example of automating individual feeding with simultaneous animal weighing. The system monitors body weight in real-time and manages sows and gilts in large pen gestation to optimize reproductive performance.
Automating Feed Measurements
Osborne's exclusive FIRE® (Feed Intake Recording Equipment) performance testing feeder provides small groups of finishing pigs with ad-libitum feed while monitoring individual consumption. This system eliminates manual feed intake tests and allows pigs to be housed in groups, which more accurately represents actual on-farm production. FIRE monitors factors like daily and total feed consumption, time and duration of each animal's eating event and feed conversion, among others. The system accurately assists in identifying the influence of environmental factors on the growth performance of animals for genetic, nutritional, or pharmaceutical research. Individual body weights and weigh gain/change is also monitored with FIRE when equipped with an ACCU-ARM® weigh race. The FIRE system remains the worldwide gold standard in performance testing and is used by more genetics and research companies than any other system.

RFID Livestock Tracking
Os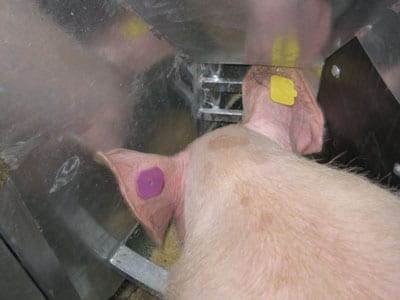 borne offers ISO-compliant RFID swine tags to provide for the identification of pigs and much more. RFID tags can also be used in conjunction with Osborne equipment to monitor livestock behavior, feeding patterns, and collect data to help detect diseases or even a breeding sow's return to estrus. When used in conjunction with any of Osborne's automated feeding and weighing systems, RFID technology is the backbone that helps in improving feed efficiency and matching feeding requirements.

Environmental & Temperature Control
Another area pig farming technology has improved is in the efforts to provide optimal environmental conditions for growing pigs, in particular, keeping juvenile pigs warm. Maintaining proper pig temperature requirements is important for overall health, and is especially important part of farrowing and nursery management. Farrowed piglets need supplemental heat to perform and grow quickly and without problems. Osborne's Stanfield® heat pads are designed to provide the warmth piglets need. Farrowing and nursery heat mats can ensure that newly farrowed or newly weaned pigs reach the grower-finisher stage healthy.
---
Osborne Livestock Equipment has an array of technologies to improve the production of your pig farming operations. Whether seeking to improve feeders, ventilation systems, scales, or any other area of your operation, Osborne's advanced pig management systems can provide benefits in all phases of pig production.  

A technologically-advanced pig farm is a productive and profitable pig farm. The financial rewards for incorporating pig farming technology not only increases the efficiency of pig production, but helps farmers manage their operation more effectively. Automated solutions offer savings by reducing costs in such areas as energy, feed, or disease prevention. In 2019, the trend toward improving pig farming technology continues. Such technologies can effectively combine production with animal welfare to make your pig farm a successful one.